February Screening 2013
1:17 AM
UKM SINEMATOGRAFI UI PROUDLY PRESENTS
Sinematografi UI is a college student organization that focused on Film; Film making, film appreciation, and soon will organized a film festival too. Before going forward to film festival, Sinematografi UI is back again this year with their annual screening which titled "February Screening". This time, they will screen four documentary films in two days. Documentary films that talk about "Profession for Living".
The movies are:
Persona directed by George Arif, SPIN Production
Negeri di Bawah Kabut directed by Shalahuddin Siregar, Studiokecil Production
The Songstress and the Seagull directed by Paul Agusta, Kinekuma Pictures
Dariah si Lengger Lanang (winner of Documentary film competition 2012 of Faculty of Economy, University of Indonesia)
Date: Thursday - Friday, 14 - 15 February 2013
Venue: Cinema Room, Central Library University of Indonesia, Depok
There will be a Q&A session after the screening.
THIS EVENT IS FREE!! AND EVERYONE IS INVITED!!
So, make sure you mark your calender and make sure you won't miss it!
For further information please follow @SinematografiUI. Confirm your attendance to +62 857 391 59 835 (with Syama) and save a seat or two or three for you and your friends.
I'll see you at the venue ;)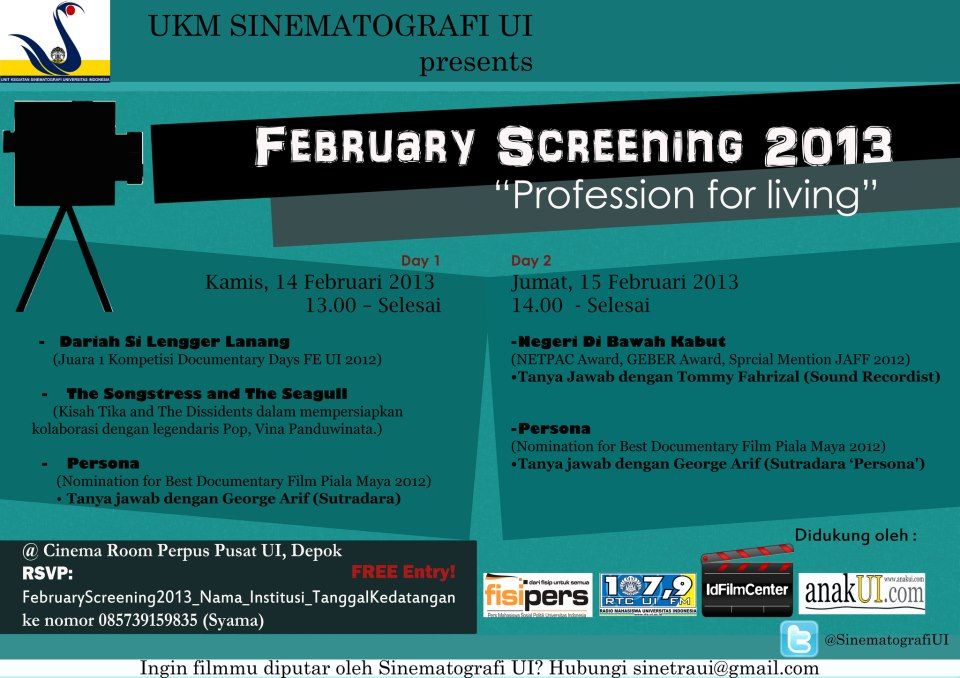 Cheers and Beer,
Lisnaadwi