The Opening of MUSLIHAT OK. Video
4:34 AM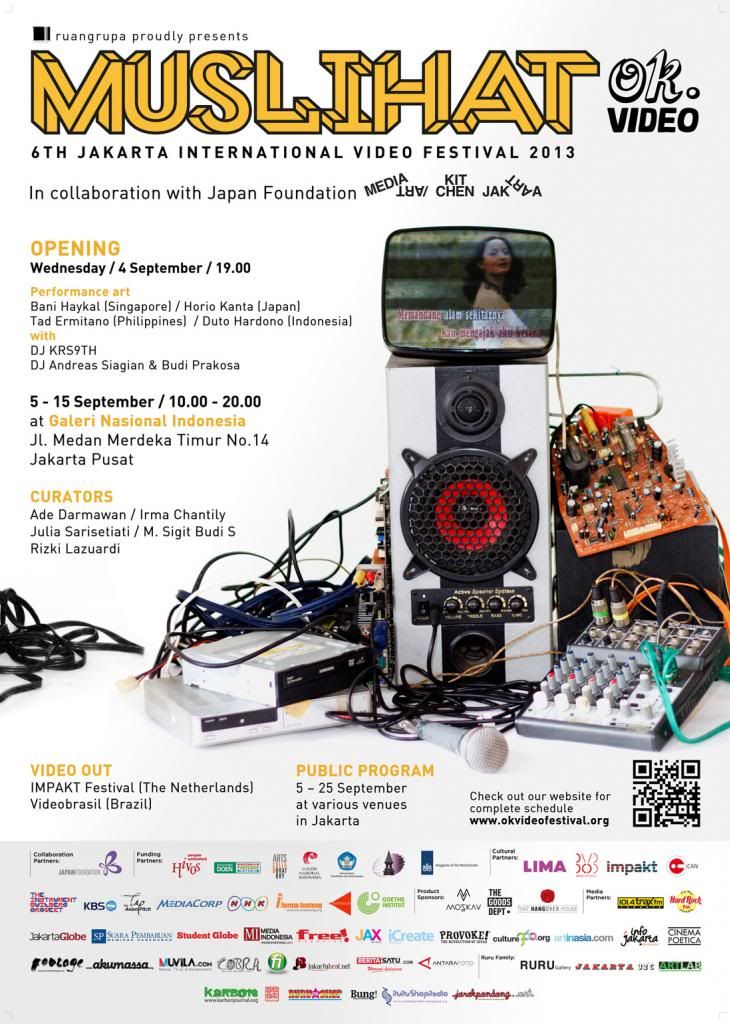 MUSLIHAT OK. Video
The 6th Jakarta International Video Festival
5 - 15 September 2013
www.okvideofestival.org
Showcases 91 videos and media arts by artists from 29 countries and 6 compilation programs and also collaborates with 7 partners
Wednesday, 4 September 2013 / 19.00
Galeri Nasional Indonesia
Jl. Medan Merdeka Timur 14, Jakarta Pusat
With performance art by Horio Kanta (Japan), Tad Ermitano (The Philippines) & Duto Hardono (Indonesia), dan Bani Haykal (Singapore), and music by DJ KRS9TH (Indonesia) and DJ Andreas Siagian & Budi Prakosa (Indonesia).
5 – 15 September 2013 / 10.00 – 20.00
Galeri Nasional Indonesia, Jl. Medan Merdeka Timur 14, Jakarta Pusat
Irma Chantily, Julia Sarisetiati, Rizki Lazuardi
Ben Rivers (UK), Callum Cooper (UK), Christopher Baker (USA), Christian Jankowski (Germany), Doug Fishbone (USA/UK), Faiza Agmad Khan (India), Irwan Ahmett (Indonesia), Julius von Bismarck (Germany), Karel Doing (The Netherlands/Australia), Leonard Retel Helmrich (The Netherlands), Lukas Birk & Sean Foley (Austria/Ireland), M.R. Adytama Pranada (Indonesia), Toby Huddlestone (UK), and many more.
Through the theme Muslihat ("Deception" in English), OK. Video tries to observe and focus on the practices of "outsmarting" technologies that were found in some countries such as Indonesia. The term Muslihat in Indonesia means "effort", "trick or tactic", and "strategy". This theme is considered could represent a phenomenon of outsmarting technology practices that were done by society as consumer. Muslihat also has mythical meaning, make the impossible becomes possible. With a little "effort" or "tactic", a technology product that was created with limited form and function can be used to fulfill the user or consumer's desire.
The practices of outsmarting technologies often caused by various impulse motives, such as substitution, to add or modify the function and value of an object, increasing the device usages, playing, aesthetic motive, or to intentionally against, challenge, and hack the system. How one outsmarts the limitations of technology for personal purposes and develop it into larger and more established motives is a practice of "Muslihat" (Deception). The development of digital media technology in this recent decades also has made major changes in the way we perceive reality.
Those six motives were used by the curators as an approach to examine the big idea of Muslihat and to select the works that reflected the phenomenon of outsmarting technologies in society; how society as consumer responds and criticizes the appearance of technologies, especially media and audio-visual technology, as mass-production devices.
Other accompanying programs:
Media/Art Kitchen, in collaboration with Japan Foundation showcases 23 media arts by artists from Japan and South Asia. After this, Media/Art Kitchen will exhibited in Kuala Lumpur, Manila, dan Bangkok.
Curators: Ade Darmawan dan M. Sigit Budi S
Artists: Duto Hardono (Indonesia), Hagihara Kenichi (Japan), Jon Romero, Cris Garcimo & Erick Calilan (The Philippines), Krisgatha (Indonesia), Lifepatch (Indonesia), Mohri Yuko (Japan), Muhammad Akbar (Indonesia), Tad Ermitano (The Philippines), The Propeller Group (Vietnam), and many more
International Competition, invited artists and public to submit their videos.
Video Out, in collaboration with IMPAKT Festival (The Netherlands) and Videobrasil (Brazil) who have being consistent showcasing and promoting video arts from all over the world.
Details: www.okvideofestival.org/2013/festival/ok-video-muslihat/programs/video-out/
Public Program, consisting a series of discussion, artist talks, festival tour, curators presentation, and workshop that are open for public.
Everyone is invited. Free meal and snack provided, free entertainment all night long, free great videos to watch from all over the world. So, feel free to come and to share this event to all of your friends.
See you at the venue!
Cheers and Beer,
Lisnaadwi