MUSLIHAT - OK. Video Started This Week!
5:06 PM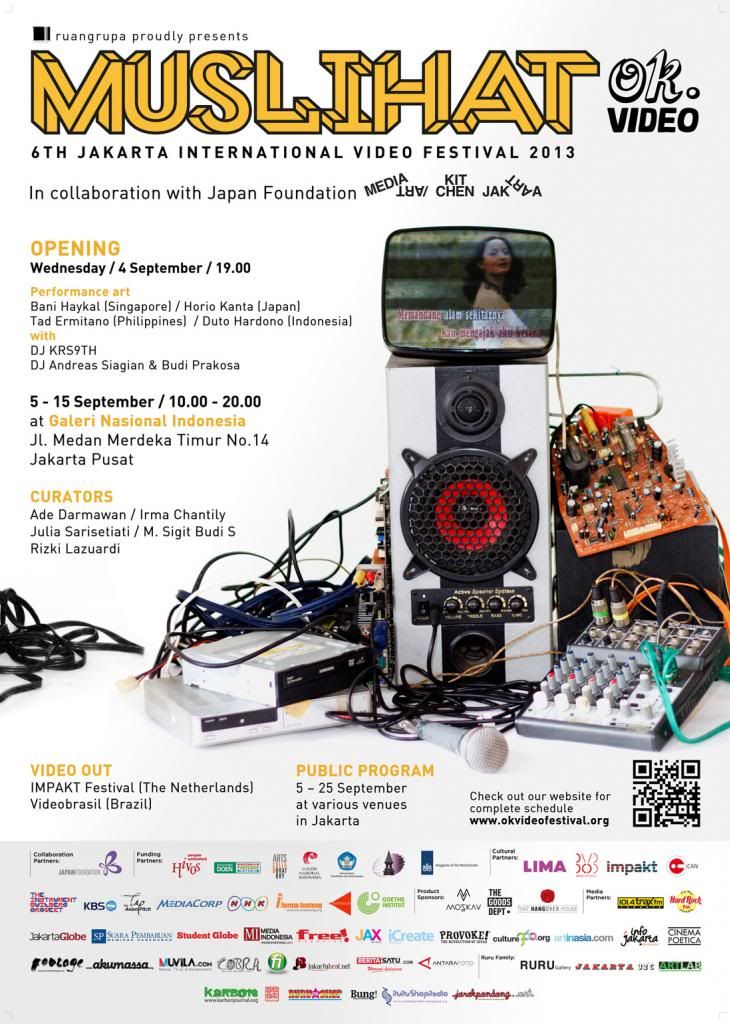 MUSLIHAT OK. VIDEO – 6th Jakarta International Video Festival
Showcases More Than 90 Works That Outsmart Technologies
The biennial international video festival, OK. Video, is back for the sixth time. MUSLIHAT OK. Video – 6th Jakarta International Video Festival will be held from 5 – 15 September 2013 at Galeri Nasional Indonesia. Three Indonesian curators, Irma Chantily, Julia Sarisetiati, and Rizky Lazuardi are selected to be the festival curators this year.
The festival comprises 92 videos and media arts by many artists from 29 countries such as Argentina, Australia, Austria, Bolivia, Brazil, China, Czech Republic, France, Philippines, India, Indonesia, Iran, Israel, Italy, Japan, Germany, Colombia, Lithuania, The Netherlands, Poland, Singapore, Spain, United Kingdom, United States of America, Vietnam, and many more. In addition to curated works, there are 29 selected works from Open Submission. Three best works from Open Submission will be announced at the opening of MUSLIHAT OK. Video - 6th Jakarta International Video Festival, 4 September 2013 at Galeri Nasional Indonesia.
Through the theme Muslihat ("Deception" in English), OK. Video tries to observe and focus on the practices of "outsmarting" technologies that were found in some countries such as Indonesia. The term Muslihat in Indonesia means "effort", "trick or tactic", and "strategy". This theme is considered could represent a phenomenon of outsmarting technology practices that were done by society as consumer. Muslihat also has mythical meaning, make the impossible becomes possible. With a little "effort" or "tactic", a technology product that was created with limited form and function can be used to fulfill the user's/consumer's desire.
The practices of outsmarting technologies often caused by various impulse motives, such as substitution, to add or modify the function and value of an object, increasing the device usages, playing, aesthetic motive, or to intentionally against, challenge, and hack the system. How one outsmarts the limitations of technology for personal purposes and develop it into larger and more established motives is a practice of "Muslihat" (Deception). The development of digital media technology in this recent decades also has made major changes in the way we perceive reality.
"Those six motives were used by the curators as an approach to examine the big idea of Muslihat and to select the works that reflected the phenomenon of outsmarting technologies in society; how society as consumer responds and criticizes the appearance of technologies, especially media and audio-visual technology, as mass-production devices," said Mahardika Yudha, Festival Director of MUSLIHAT OK. Video - 6th Jakarta International Video Festival.
MUSLIHAT OK. Video Festival also collaborates with Japan Foundation in a presentation session of Media/Art Kitchen. Twenty three (23) media artworks from Japan and Southeast Asia will be exhibited at Galeri Nasional Indonesia. Ade Darmawan and M. Sigit Budi S. are selected to be the curators for Media/Art Kitchen Jakarta session. After this, Media/Art Kitchen will be exhibited at Kuala Lumpur, Manila, and Bangkok.
Apart from the exhibition, MUSLIHAT OK. Video Festival also has a series of fringe screening and exhibition (Video Out) schedule and public programs such as workshop, discussion, artist talk, festival tour with the curators that will be held from 5 – 25 September 2013 at various venues in Jakarta. Two presentations from the celebrated video festivals, IMPAKT Festival (The Netherlands) and Videobrasil (Brazil), will be sceened as a part of Video Out this year.
For further information and schedule can be accessed through www.okvideofestival.org.
***
About OK. Video
OK. Video is a biennial international video festival held since 2003 by Video Art Development Division of ruangrupa. OK. Video gives spaces to video and media arts that focus on social and cultural issue and phenomena in Indonesia and globally through a biennial festival with specific theme. The division also conducts workshop, video production, documentation, as well as Indonesian videoworks distribution.
About ruangrupa
ruangrupa is a Jakarta-based contemporary art organization established in 2000. ruangrupa strives to support the idea of art within urban and cultural context by involving artists and multidisciplines practitioners for a collaborative works such as exhibition, festival, art lab, workshop, research, as well as book, magazine, and online-journal. www.ruangrupa.org
P.S. The press conference will be held at September 3rd and the opening will be held at 4th
at Galeri Nasional Indonesia
. I'm inviting all my bloggers fellas to come. So, do come!
Cheers and Beer,
Lisnaadwi