Laura & Marsha: To Get Lost, To Search, Then To Find (Spoiler Alert)
11:45 AM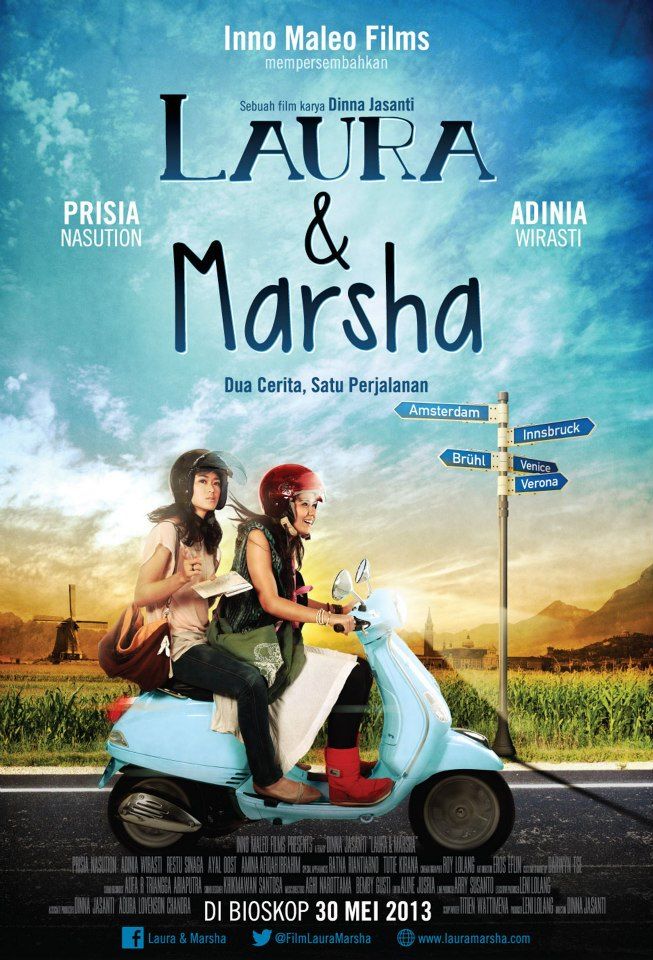 Laura & Marsha (2013), a movie from Dinna Jasanti. This movie actually will be on cinema by May 30th this year. But, T'm pretty lucky to get the sneak preview last March 26th at the fringe event of ARTE Indonesia, an art festival that held from 26th - 30th March at FX and JCC, Jakarta. Thanks to the programmer, John Badalu for all the good movies in ARTE Indonesia's movie screening program.
The movie is about two bestfriends; Laura and Marsha, this two character is role by two young and undeniable good actress; Prisia Nasution and Adinia Wirasti. Laura (Prisia Nasution) and Marsha (Adinia Wirasti) are having a dream to go to Europe since they were at high school. After a long time missing from each other, they're met and Marsha, a travelling novel writer, has the idea to make their dream of travelling to Europe comes true. Laura who has a daughter, deny the idea at first, but then agree to go. Then they go and find themselves at Amsterdam already. Laura starts making some rules for their journeys. But everything doesn't goes smooth as she'd planned. They get some troubles; get lost and in the jungle, chased by some bad guys, lost their visa and money. Until at one point they find out that they have untold purpose in their Europe trip. The purpose of finding an answer. The purpose that make them fight and leave each other.
Basically, there's nothing special about the story, its the typical story of most movie with travelling story. Go for a trip together then they have to face some problems, finding some misunderstanding with the partner, and so on. But, if I'm not mistaken, there's no movie with Europe as the setting before this movie. That's probably the strength of the movie. Great cinematography, for its setting is great too. One thing, this movie makes me hate my job, tho there's nothing wrong with my job, and makes me want to go on vacation, tho it's not holiday. Damn. Then having Prisia Nasution and Adinia Wirasti to play the role is another plus, they both are really good in character role.
This movie somehow feel so real, because that is exactly what (or will) happen in a trip, especially the character development. And there are some parts of the story that is too damn good if they're ever really happening. Being trap in the middle of a jungle, then finding a warehouse, after they force to get in, they find it that that is a beer warehouse. Free beer all night long. Then in the middle of nowhere, Marsha stopped a van to get drive somewhere else, once the van's door opens, it fills with Marsha's favorite indie band. WHAT?? If that kind of things will ever happen to any traveler, it would be the most unbelievable thing. But still, it's possible. And yet, too damn good to be true.
Many lesson from the movie actually, for me this movie could be a guidance about "What You Need to Know About Travelling before You Decided to Go Travelling". How to survive even in the most strange place in the world. The movie shows how a trip could change your way of thinking and even your attitude. In real life, a trip does changed the traveler inside out. It is also about trying to see things from many point of view. Life is miserable, but the most important is how to make it better and worth to live.
After all, it is a good movie, you don't have to have hard thinking during the movie because everything is split. A very light yet real story. The dialog between the two character are kind of dialog I would heard in my daily life. Prisia and Adinia could make me feel overwhelmed, it's happy at the beginning, but when they face their problem, I start to hate Laura and keep shaking my head for Marsha's behavior, then feeling sad at the climax, then happy again at the end of the movie. Well, from the very beginning I already know how it'd end. But the whole story line is fun.
Well, just to remind you, Laura & Marsha will be on the cinema at 30th May 2013. Save the date and make sure you'll watch this movie by that date.
Cheers and Beer,
Lisnaadwi